Kira Ford

Some attributes

First
Age: 17
Second
Gender: Female
Third
Occupation: Student/Yellow Dino Thunder Power Ranger

Other attributes

Fourth
Nationality: Japanese
Fifth
Origin: Power Rangers Dino Thunder
Sixth
Played by: WhiteRose-Aki
Kira Ford
(born 9 April 1996), human, is a student of Nintendo High and leader of the small trio, Dino Megaforce. She is good friends with her teammates and fellow students as well as hides her struggles and is a struggling musician.
History (Pre High School Days)
Edit
High School Days
Edit
Period 1 - Music
Period 2 - Gym
Lunch
Period 3 - English
Period 4 - Demonology
Appearance
Edit
Kira is a slender built young woman with dark blonde wavy hair and brown eyes. While not wearing the school female uniform, she is often seen in yellow punk-style clothes, reflecting her punk style. On her right wrist, she wears her Yellow Dino Gem on a silver bracelet.
Personality
Edit
Kira hides her pretty femininity behind a tough facade full of attitude and fire. Yet she's determined to prove she is an individual. She dresses in her own, carefully cultivated neo punk style. She's an amazing singer and plays the guitar. Kira uses her biting wit to hide her real emotions, except in her music, which reveals her passion and sensitivity. She keeps will hidden the fact that she is struggling with adolescence along with everyone else. At times she can be insecure, hidden behind a "I'm a tough and don't care" attitude, but she also has a great capacity for caring about others.
She is intelligent, but does not always apply herself to her schoolwork, except in creative writing, at which she excels. As a musician, Kira is best able to express herself in her music. She uses the Ptera Scream to stop evil in their tracks, and pilots the powerful Pterazord. Kira learns to look beyond people's stereotypes, and realize that despite their flaws, that they can be friends.
Powers & Abilities
Edit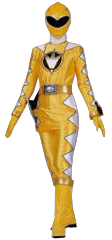 As leader of Dino Megaforce and holder of the Yellow Dino Gem, Kira is brave, strong, and fearless. Through the power of the Yellow Dino Gem, Kira is able to emit a destructive sonic scream from her vocal cords that has enough power to flatten anything in the scream's path, which had been named by Gia as the Ptera Scream. As a sound-based attack, it also has the added effect of harming the target's hearing.
Dino Morpher
Thundermax Saber
Ptera Grips
Raptor Rider
Raptor Cycle
Kira is the only character, other than Tommy (besides the fact he is in his MMPR incarnation), from Dino Thunder to appear in High School Days.
It is currently unknown how Kira and her team obtains their powers, but Kira is determined to who it is and why they obtained them.
Ad blocker interference detected!
Wikia is a free-to-use site that makes money from advertising. We have a modified experience for viewers using ad blockers

Wikia is not accessible if you've made further modifications. Remove the custom ad blocker rule(s) and the page will load as expected.